Photo walk with Dr Vivek and Gathr
Dr Vivek Muthuramalingam and I are a part of the same yoga school. Although we are in different batches–he's an 'explorer', while I am a beginner–we have crossed paths on several occasions.
At a fundraiser for the school, Vivek offered to auction his services–a photo walk around the 'pete' (also known as market and pronounced 'pay-teh') area of Bangalore, peppered with stops at delicious eateries. I had to pass up the opportunity because my wife and I were more interested in outbidding other foodies to a seat at the table of a yogini who drums up delectable Bengali food.
When Gathr announced that they have teamed up with Vivek, and he's going to take photographers, foodies and history enthusiasts on another 'pete' walk, I couldn't let the chance slip me by.
We met on what I thought was a sleepy Sunday morning. As I approached the start point of the photo walk, the buzz around was maddening. Hawkers were screaming in tongues I didn't understand. Verbal arguments, bordering on fisticuffs, on who displays their wares where, had already broken out and it was just 7:45 in the morning.
Careful not to tread on rotting vegetables and cow dung, I made my way to the entrance of KR market. At about 8.10 am, after everyone gathred (see what I did there :P), we set out exploring the 'flowers' section of the market.
As it was a Sunday, the market wasn't bustling as it usually is with most of the shops were closed. But, subjects were aplenty and stories presented themselves at every corner.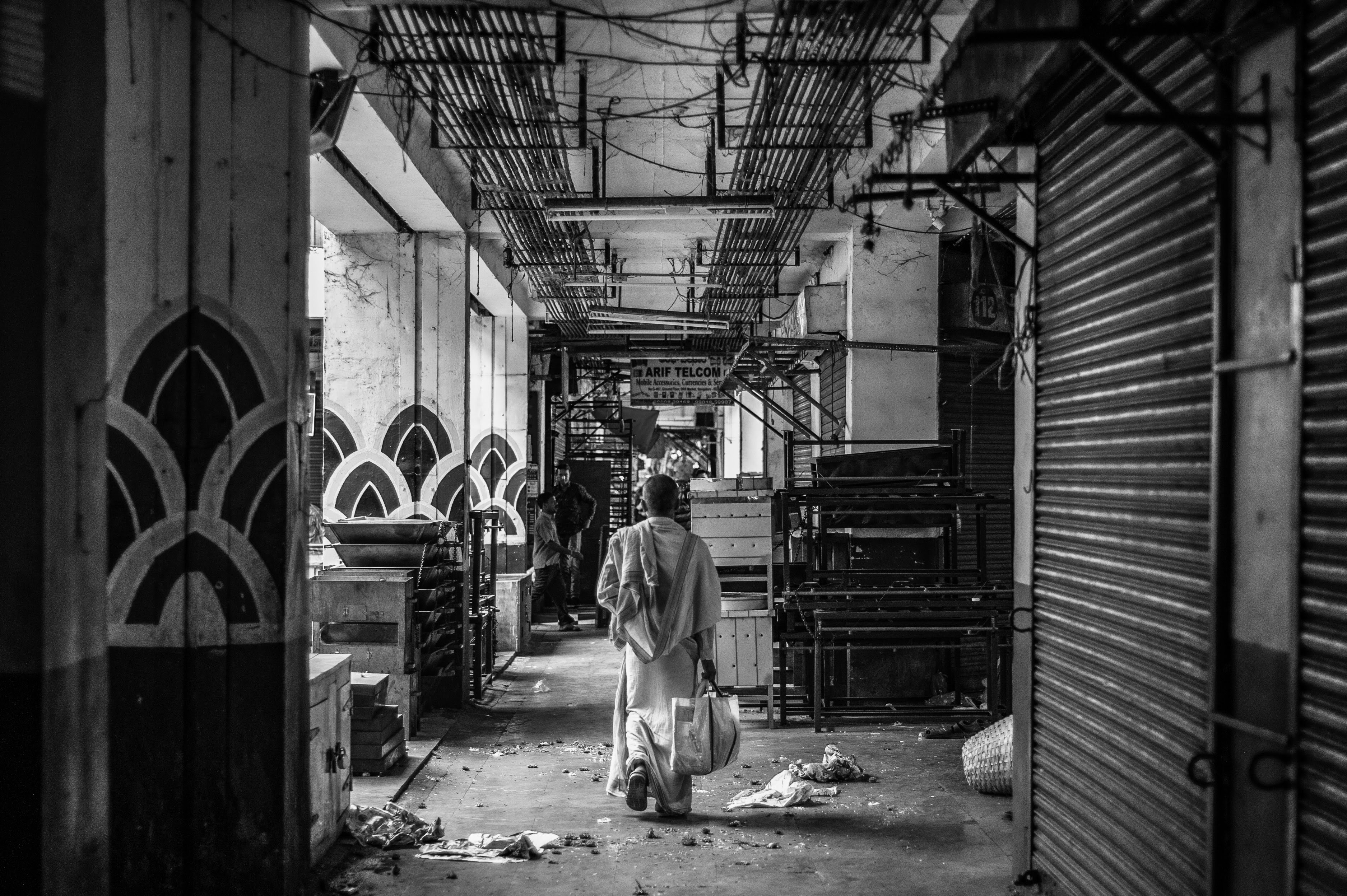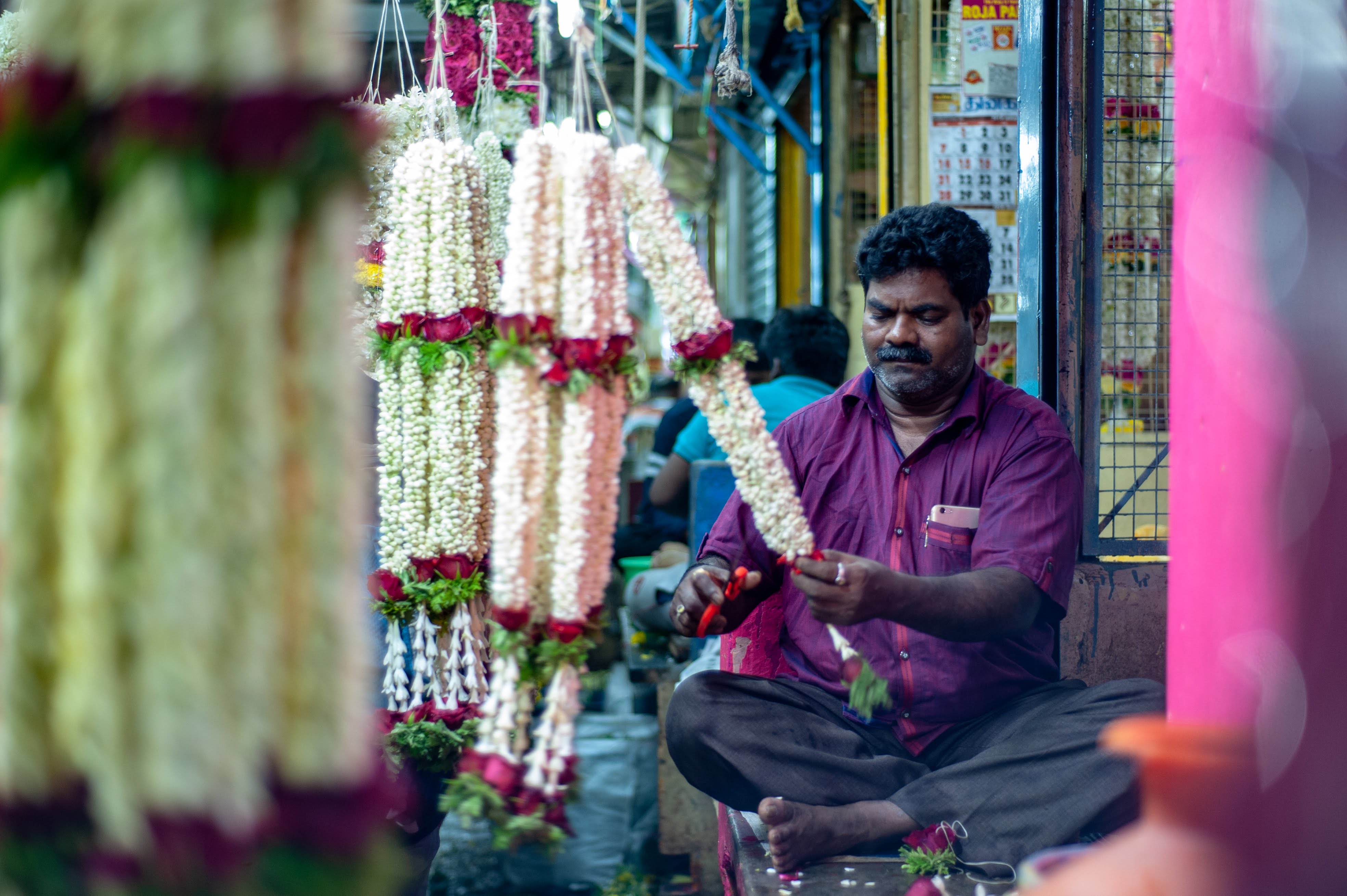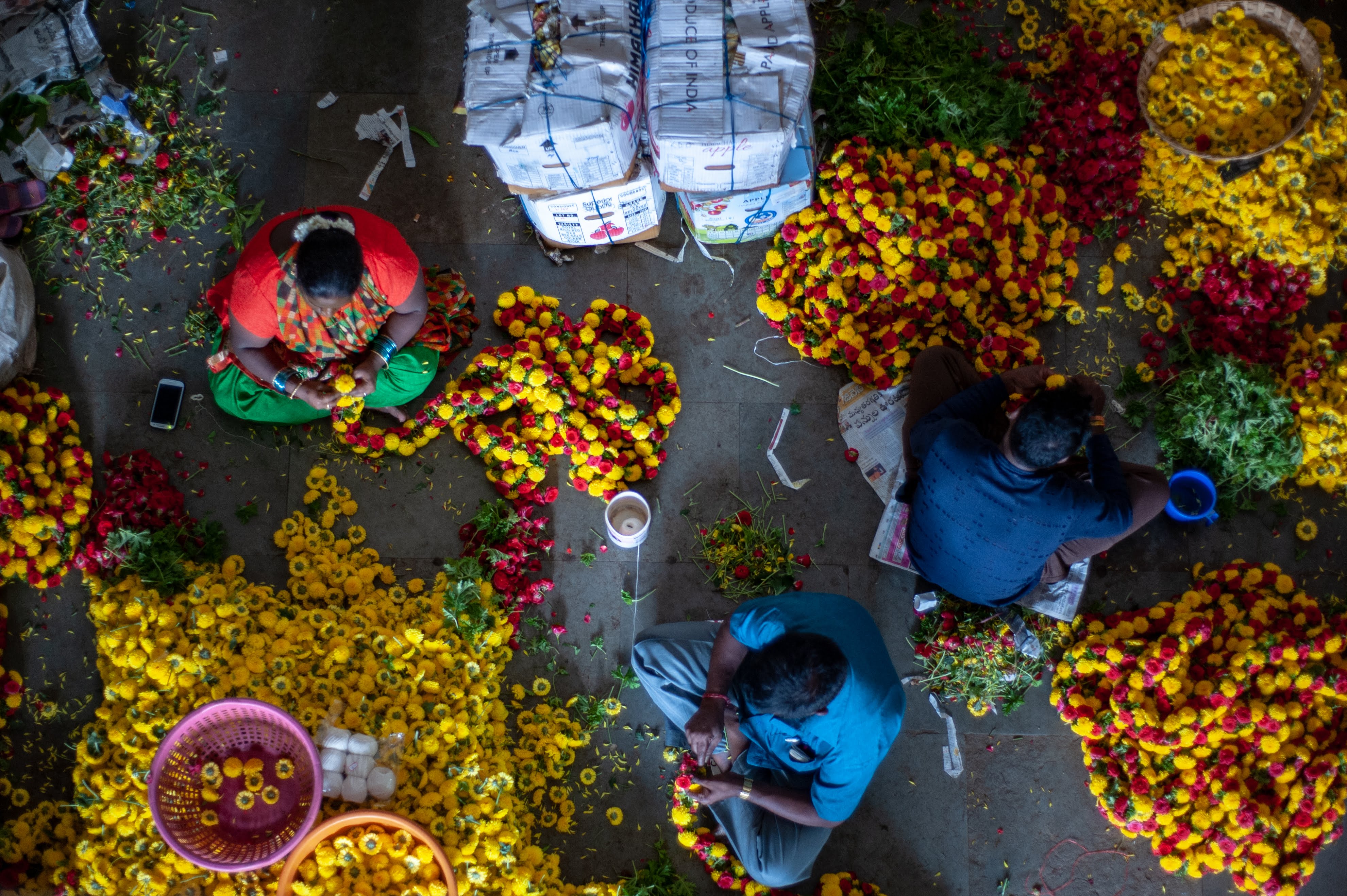 Some subjects were more than willing to get their pictures taken.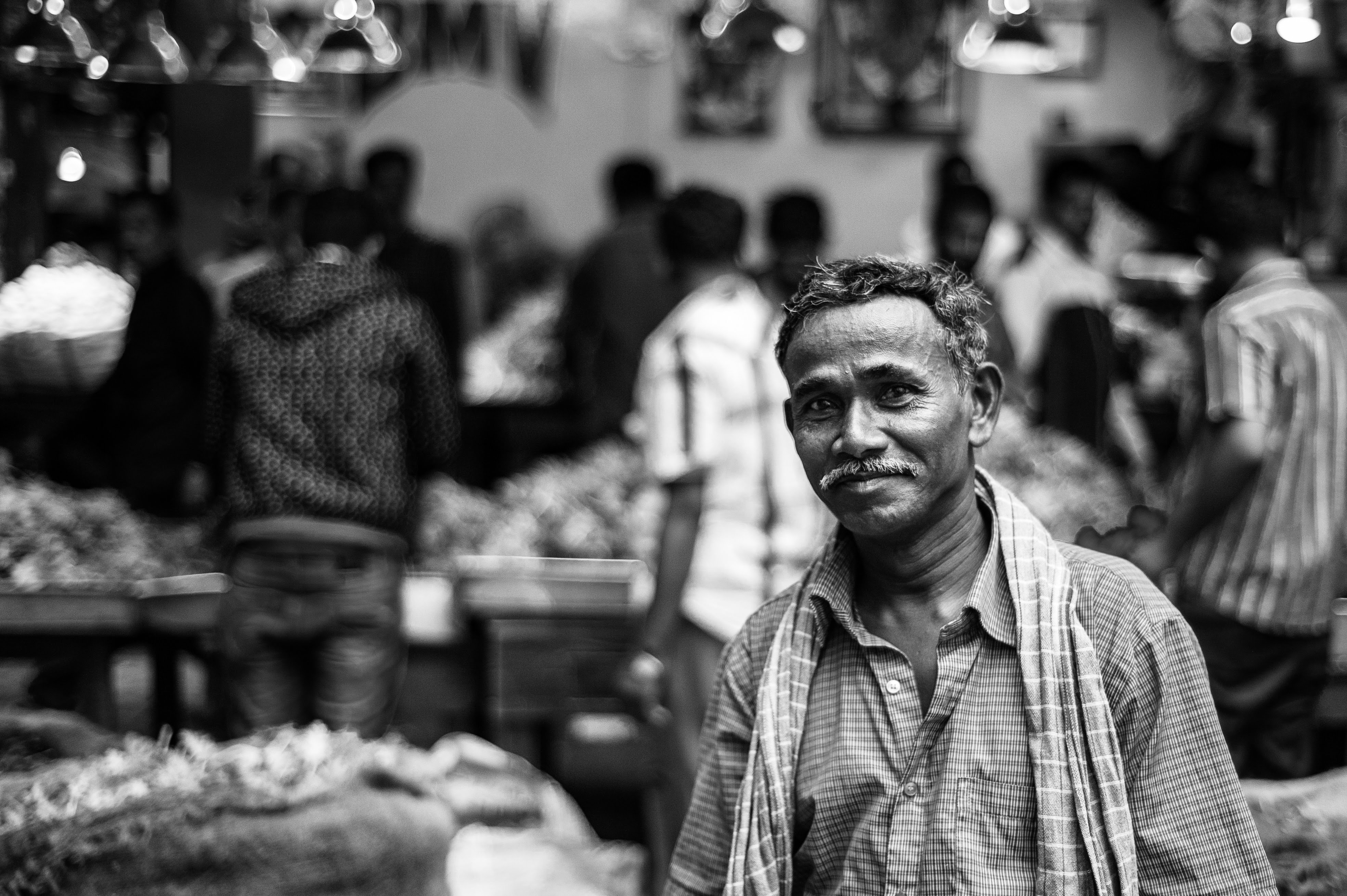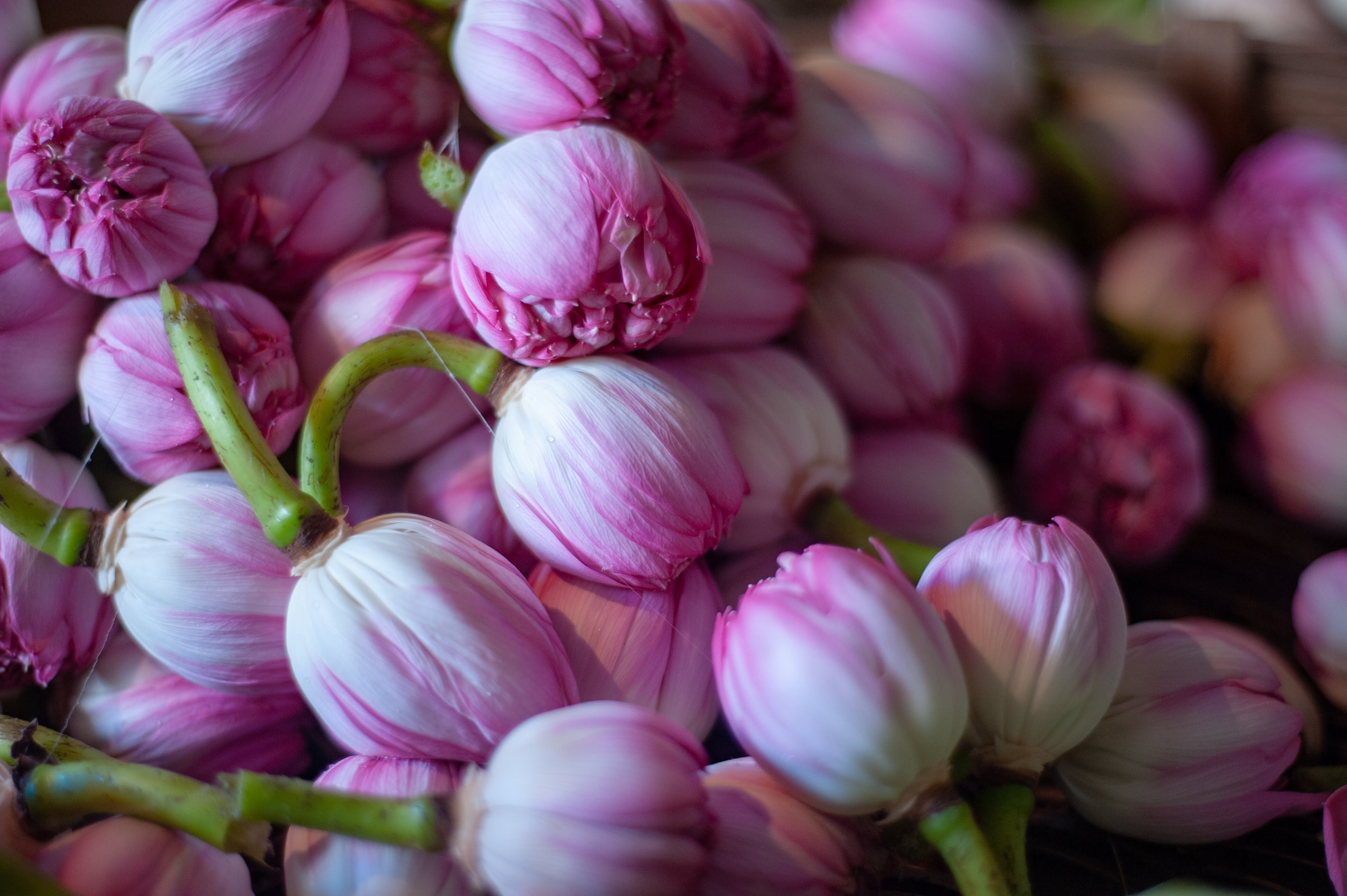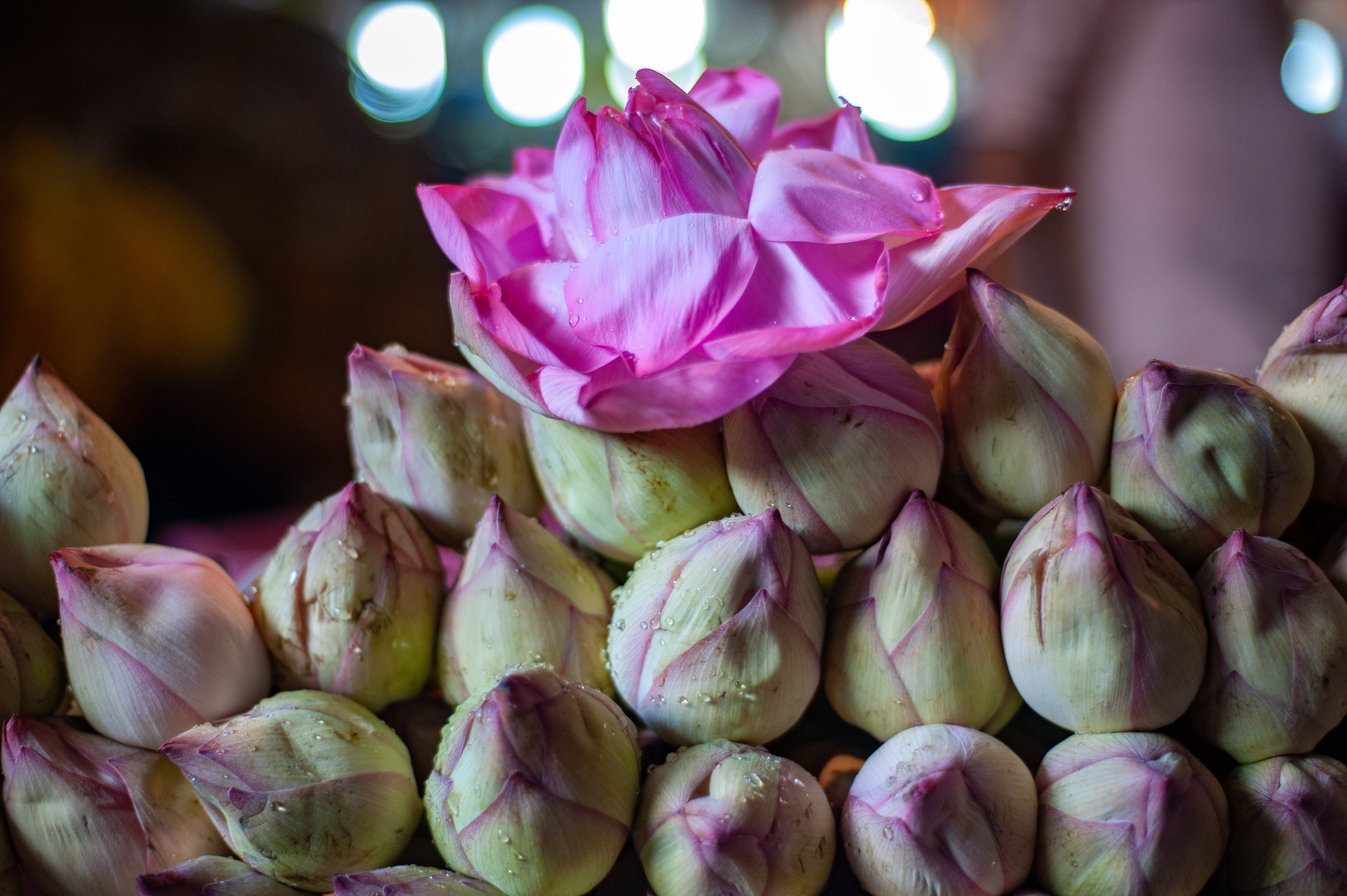 Others, not so much.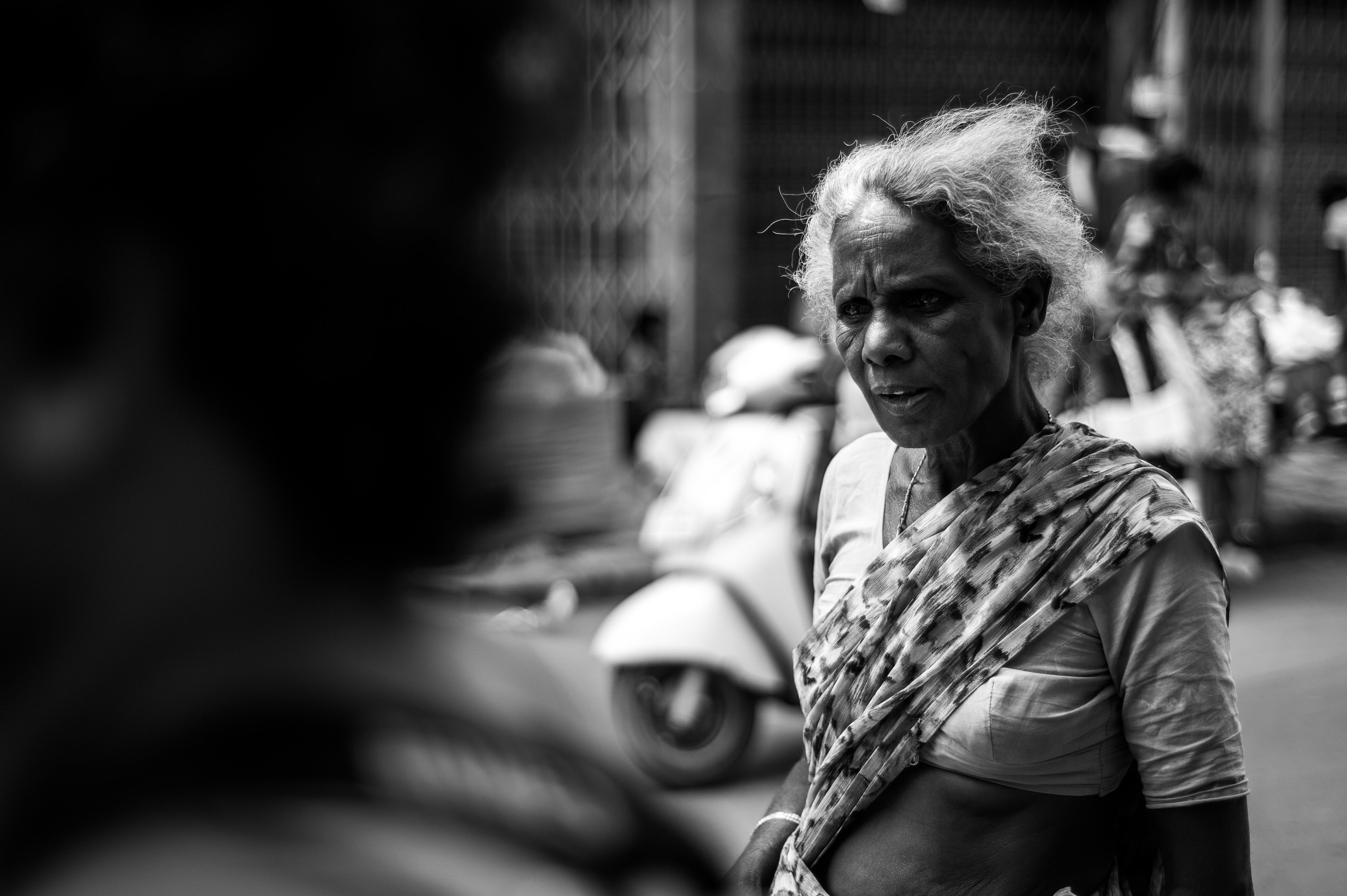 I was lucky to get one decent picture in of this lady before she started abusing in words even I didn't understand (The first few words I learnt at the start of my six-year education in Manipal, Karnataka, were the choicest of abuses in Kannada and Tulu).
The organisers of the walk advertised visits to 17 different eateries that served the flavours relished by the locals. It was close around 10.30 am when we realised that we haven't eaten anything. So, putting our cameras back in our bags, we set out to our first eating joint, Lakshmi Nataraja Refreshments. A helping of 'podi' masala dosa and filter coffee quietened my rumbling stomach. The eatery's 'self-service' mandate and the wait to get my hands on the piping hot dosa helped me converse with some people I had not initiated conversations with.
After breakfast, the folks from Gathr took our leave and Vivek shepherded us to Chodehswari Temple. The idea was to squeeze in a quick peek, but it was the temple's priest that ended up doing most of the peeking.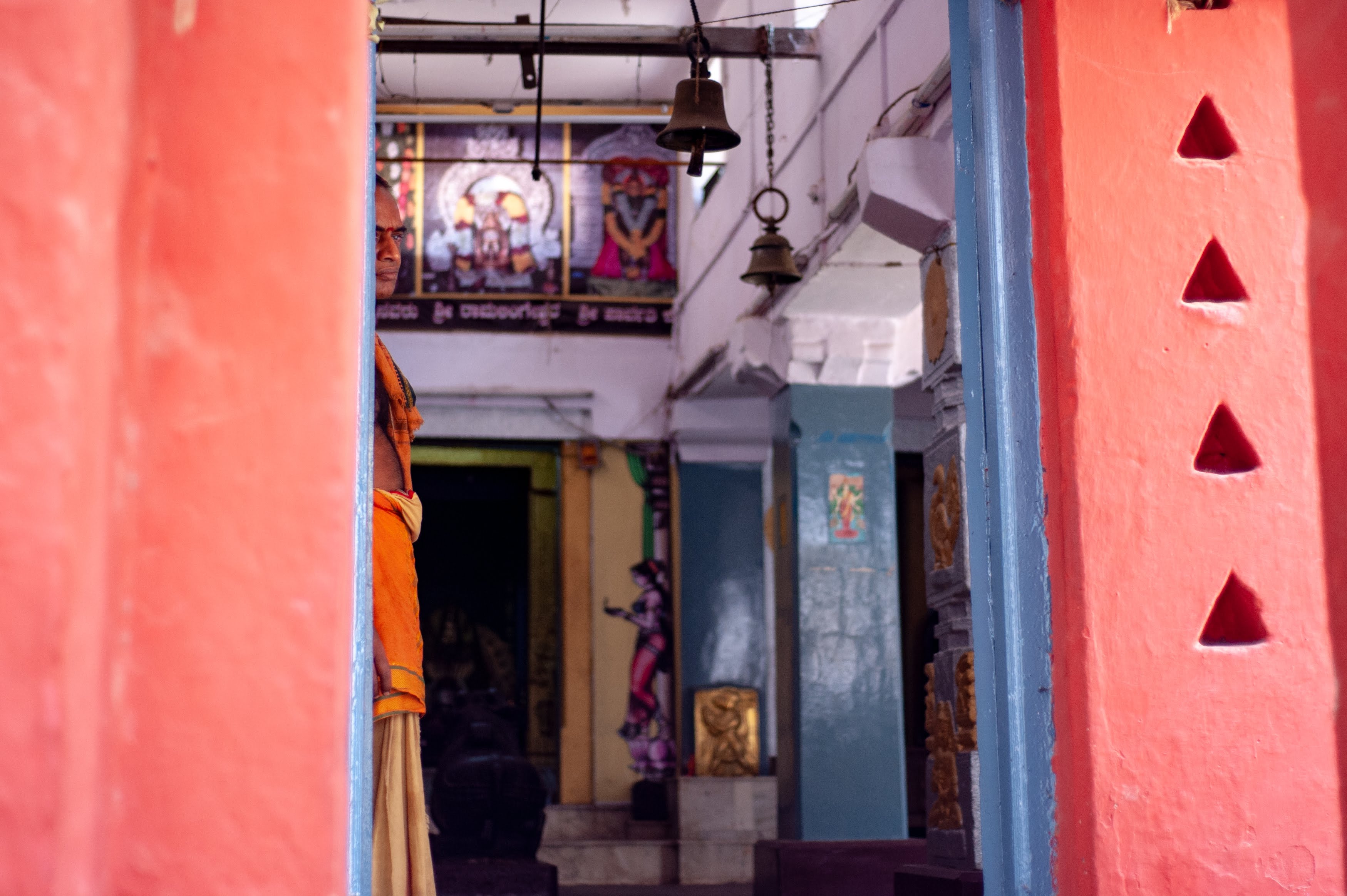 We decided to walk to the Vithoba Temple, not before stopping at Annapoorna Sweets and Chats and Shyam Misra Juice Centre. At the chat outlet, I devoured a beautifully crafted samosa (I was eating a well-made, tasty samosa after a really long time), while the others indulged in some kadi pakodas.
When we finally arrived at Vithoba Temple, it was shut.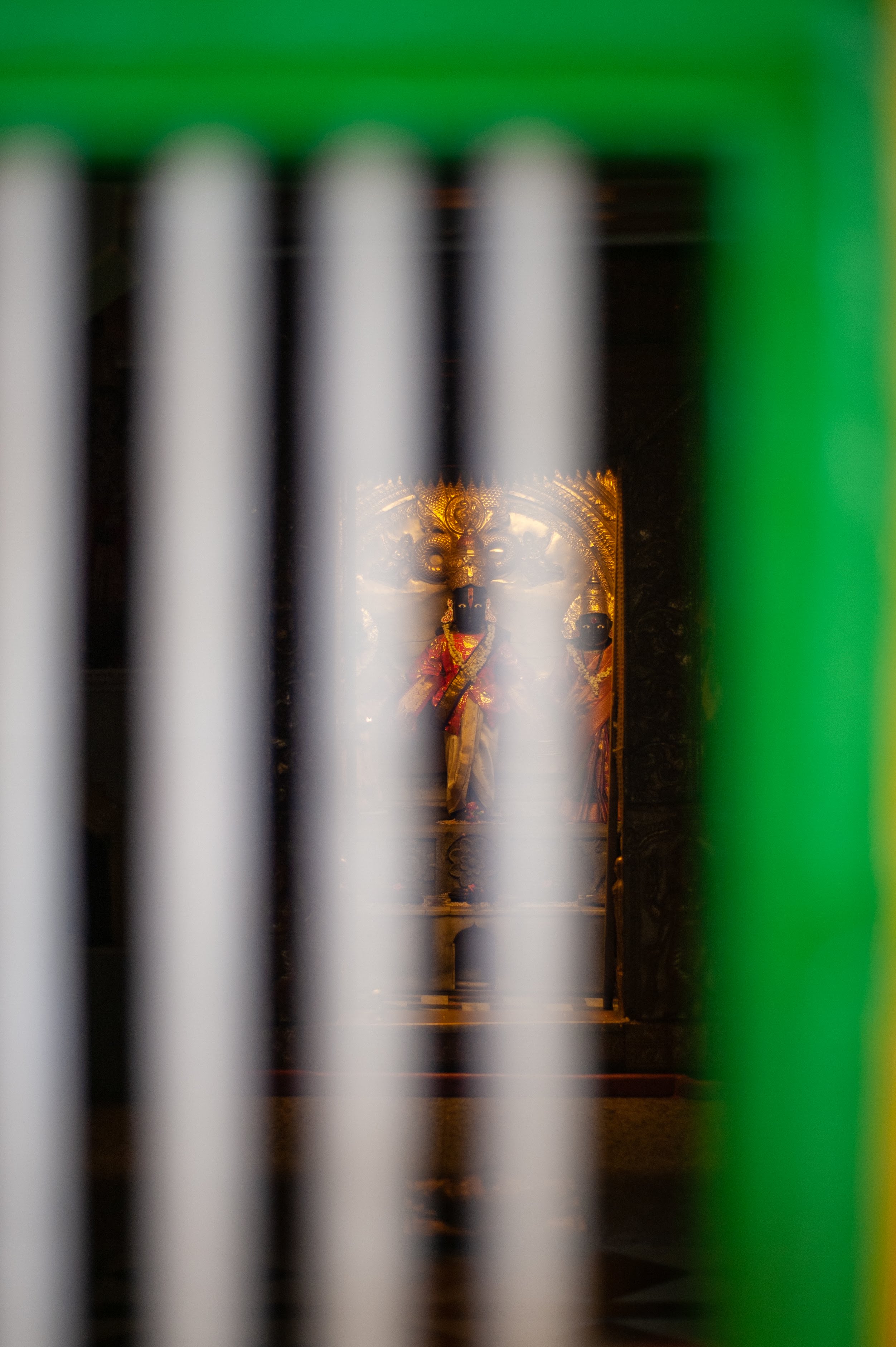 It was around noon, so there was some dissent among the ranks. The hot Bangalore sun, coupled with the distance we walked in those four hours, had rendered most of us tired. We decided to end our walk at Udupi Sri Krishna Bhavan, but not before sampling the sugarcane juice at Kaveri Sugarcane Juice Centre.
In spite of gulping down two full glasses of refreshingly cool sugarcane juice, I had a tea at Udupi Sri Krishna Bhavan. Coming all the way to that iconic restaurant and not tasting their fare did seem right to me.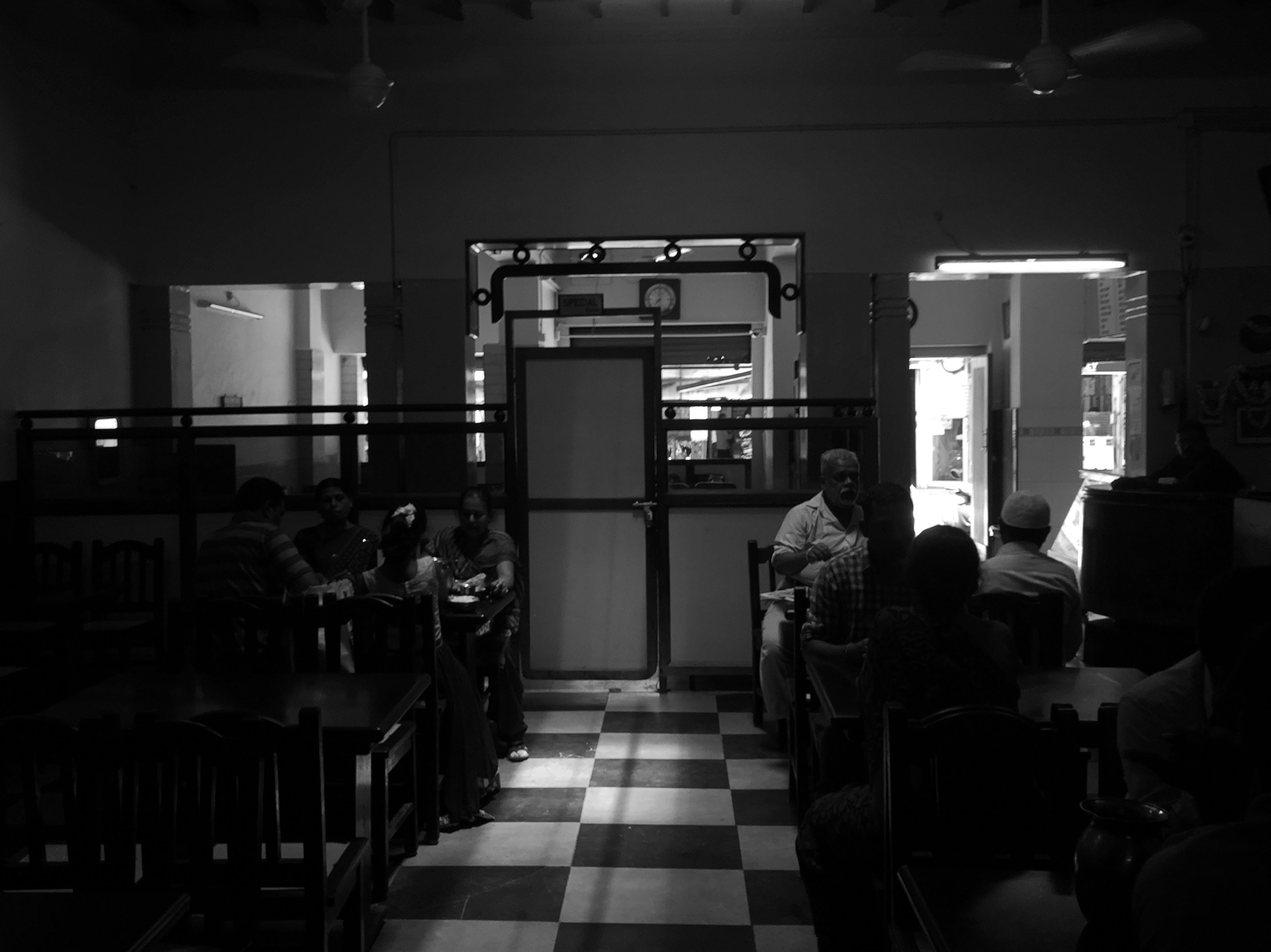 The cool interiors and warm hospitality of the staff at USKB made me want to sit there a little longer, but aching legs and a phone call from home made me agitate to leave. After a group pic, we bid adieu to each other. I'm sure I wasn't the only one hoping that some of our paths cross again.
Read Vivek's post on the walk here. Also, follow Gathr on their social channels, but before you do that, take a look at what they do by clicking here.